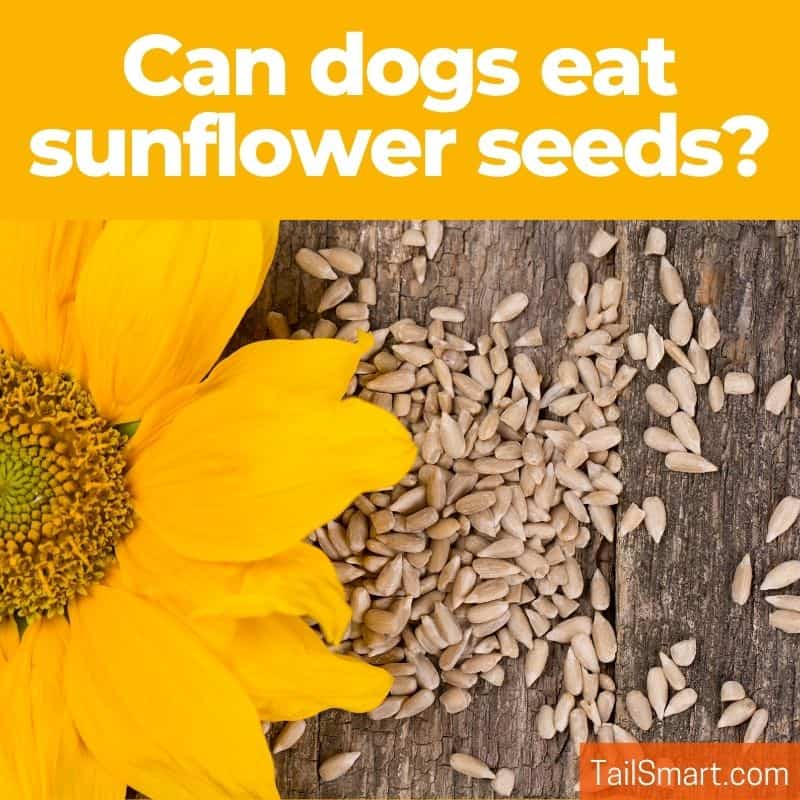 Before we dive into answering the question of "Can dogs eat sunflower seeds?" let's be sure that we've got some terminology right so there's no confusion. The sunflower seed is comprised of a shell or hull that contains a sunflower kernel, or heart. Some people think of the kernel as the meat of the seed. So if you were to buy a bag of sunflower seeds it means you're getting intake seeds that consist of the shell and kernel. In contrast, if you bought a bag of sunflower kernels it means the shell or husk of the sunflower seed has been removed.
For the purposes of this article, we're going to use the word "sunflower seeds" to mean sunflower kernels.
Are sunflower seeds poisonous to dogs?
Just like their human friends, dogs benefit from vitamins, minerals, protein, fiber, and good fats. Sunflower seeds or more specifically the sunflower kernel are a great source of many of these essential nutrients and offer potential health benefits for your pup. So the question of "Can dogs eat sunflower seeds?" is a little nuanced, because words are tricky.
Dogs can eat sunflower seeds as long as the shell or husk has been removed. Dogs should not eat sunflower seed shells. Sunflower kernels should not be seasoned when provided to dogs and should only be given in moderation.
This article will discuss nutritional values, potential side effects, and how to feed sunflower seeds to your best friend.
Can dogs eat sunflower seed shells?
Do not feed sunflower seed shells to your dog. Shells aren't easily digestible in a dog's system, so they might cause gastrointestinal damage and diarrhea.
Can dogs eat sunflower seeds that are seasoned?
Dogs should not eat sunflower seeds that are salted, flavored, or otherwise seasoned. Plain seeds are the best for your dog.
Nutritional benefits of sunflower seeds
Sunflower seeds contain many healthy nutrients, including:
| | |
| --- | --- |
| | Sunflower seeds (no shell) |
| Water | 4.73 g |
| Protein | 20.78 g |
| Fat | 51.46 g |
| Carbohydrate | 20 g |
| Fiber | 8.6 g |
| Sugar | 2.62 g |
| Calcium | 78 mg |
| Iron | 5.25 mg |
| Magnesium | 325 mg |
| Phosphorous | 660 mg |
| Potassium | 645 mg |
| Selenium | 53 ug |
| Vitamin A | 50 IU |
| Vitamin E | 35.17 mg |
| Calories | 584 |
Nutrition per 100 g via USDA
These ingredients offer reduced inflammation, good heart health, and a healthy immune system, among other things.
Vitamin A promotes a healthy coat and skin. It also helps keep muscles and nerves in tip-top shape. Vitamin E is an antioxidant that protects cells and helps keep a dog's eyes, heart, and immune system healthy. Selenium an antioxidant that protects against cell damage. Phosphorous important for bone health.
What happens if a dog eats sunflower seeds?
Sunflower seeds are high in calories. If a dog consistently exceeds its daily recommended caloric intake, it could suffer from weight gain and other health problems.
Exceeding an appropriate serving of sunflower seeds once could lead to:
Exceeding serving limits on a long-term basis could result in toxicity, which is quite dangerous. Toxicity occurs when a dog has too much of one particular vitamin or mineral. It can cause scary and even lethal symptoms like fatigue, skin peeling, organ shut-down, and heart failure.
How many sunflowers seeds can my dog eat?
Make sure your dog only eats sunflower seeds as an occasional treat. Avoid making them a part of your dog's daily diet.
A 1-tablespoon serving of sunflower seeds contains approximately 51 calories. This amount means different things to different dogs because a dog's diet depends on factors like weight, age, and activity level.
To give you an idea of what that means for dogs of various breeds, let's look at this table.
Table of a dog's daily diet and 1 Tablespoon of sunflower seeds
Breed
Weight
Calories/day
(recommended)
% of daily calories
Chihuahua
4 pounds
225
23 %
French Bulldog
25 pounds
625
9 %
Great Dane
140 pounds
2500
2 %
There are health considerations other than caloric intake, but this table clearly demonstrates why sunflower seeds should be a sometimes-treat for your pup!
What is the best way to serve my dog sunflower seeds?
Always make sure sunflower seeds are unsalted and unflavored. Only serve your dog seeds with shells removed.
It's best to thoroughly rinse the sunflower seed hearts, even if you purchased them unseasoned. Giving them a good rinse is likely to reduce impurities that you may not notice.
Use them whole as treats. Or, grind them up and sprinkle them on top of your dog's meal!
Avoid feeding your dog sunflower seed butter or oil, except as a rare treat in small amounts. They have less overall nutritional value and higher fats and calories than the seeds themselves.